The Catanduanes State University (CSU) led by its President, Dr. Minerva I. Morales, and the Catanduanes Police Provincial Office under PSSupt Felix N. Servita Jr. jointly conducted the Honor and Wreath Laying ceremony held at the CSU frontgrounds on January 25, 2018, 8:00 am.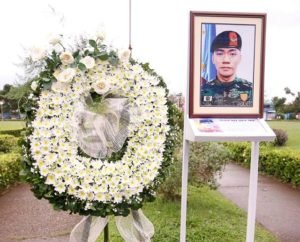 The event marked the third anniversary of the January 25, 2015 Mamasapano massacre which led to the deaths of 44 Social Action Force (SAF) commandos in a daylong gunbattle with Moro rebels in Mamasapano, Maguindanao province.
The late PCInsp Max Jim R. Tria, a CSU alumnus who took his elementary and secondary education at the then Catanduanes State Colleges Laboratory Schools (now Catanduanes State University Laboratory Schools), was one of the slain SAF commandos and known as the group's "last man standing". Tria, who was then 27 year old member of the elite unit of the PNP-SAF was hailed for his heroism and bravery as the unit's best sniper.
He was one among those who operated Oplan Exodus to get Malaysian terrorist Zulkifili bin Hir, alias Marwan, who was also killed by the commandos in the operation. Marwan carried a $-5 million price on his head offered by the US Department of Justice.
PCInsp. (Ret.) Guillermo Tria Jr., father of the late PCInsp. Max Jim Tria, said that his family appreciates the fact that many are still there to remember his son's heroism. He thanked all the people and the officials present during the ceremony, while he expressed belief that Max Jim's heroic deeds would never go in vain and will serve as inspiration to the young generation of today.
Other officials who lend their presence during the honor and wreath laying ceremony were Hon. PBM Raffy Zuniega representing Hon. Governor Joseph C. Cua, and Hon. Mayor Samuel V. Laynes of Virac.
"I pray that said heroic event be not forgotten but rather continue to be alive and flourishing in the grounds of this university," Dr. Morales said in her message during the ceremony. She added that the university (will) continue to be the ground standing for education, truth, compassion, respect, caring for environment, commitment to service, excellence and development. "I pray that the university continue to be the mentoring ground for heroes," Dr. Morales said. (CSU/EDUARDO S. VILLAR/AO V/Photo credit-Gov Cua fb)