The music enthusiasts in the island province of Catanduanes turned out to enjoy a much desirable, electrifying "Battle of the Bands" dubbed as "FaziklaBand 2018, a 2nd Anniversary Special of RADYO PERYODIKO, 96.7FM, "Ang Radyong Paborito".
This year battle of the bands, was presented by Bicol Peryodiko Publishing and Broadcast Services for commitment to the community in the areas of broadcast, print, music and entertainment industry. We proud to say that we are not only giving you the much needed news and information, particularly to our listeners and viewers around the globe, but a real entertainment by conducting actual events.
Attendees to the event really astounded the dazzling performance of our local bands namely; Ardous band (the champion), 13 colonies (1st runner-up) Barney and Friends (2nd runner-up), Anxiety depression, Agathos Smokei, Yakkelt, Kwatro Sentido, cables, Dejavu, The Millennial Band, The Introvert Band and Unplug.
None of this would be possible without the resounding support from our advertisers, silent benefactors and sponsors, our gratitude and prayers for your benevolence. Godspeed!
Our special thanks to the members of our planning committee and executive committee who contributed their quality time, effort and expertise.
Special appreciations to the Surf for Erza headed by Bon Bobis and Aja Aguilar, LGU Virac headed by Mayor Sammy Laynes, Board of Judges headed by Nonong Icaranom, Atty. Gilbert T. Suarez, LGU Virac Information officer designate Ed Rodulfo, Virac Tourism officer designate Mariel Tabuzo-Torzar and San Andres Municipal Councilor Karen Somido, the BP staff, Bicol Peryodiko Print and Broadcast Academy (BP-PBA), Campus DJ's, the audience and supporters too for inspiring us all the time.
Due to the big success of this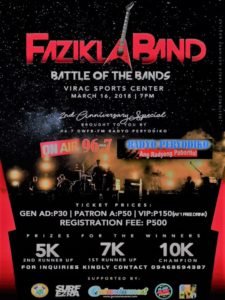 event, we are looking forward for the next edition of this endeavor.
MARAMING THANK YOU MGA KAPERYODIKO!