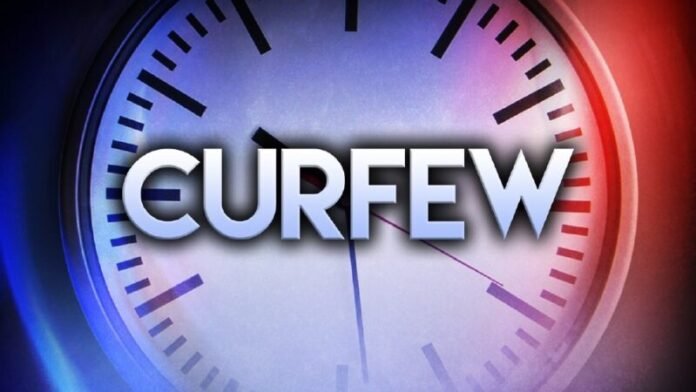 Ano! Buko nang kaipuhan ang curfew sa Prubinsyang Kayganda?
Ang nasabing kahapotan sa itaas naging reaksyon sa nasabing opinion ni San AndresMayor Peter "Bos Te" Cua na bako daang epektibo ang curfew sa prubinsya.
Ini tabi, mga ka-Peryodiko, ang kahapotan ni Mang Perio na taga Brgy. San Jose Oco asin nina Tang Abundio y Tang Serafio na taga Brgy. Rojas y Sagrada.
Segun sa tatlong taga Viga mai pa yan puwedeng hareon sa among banwa. Gasunod y gasuporta kami sa desisyon ni Mayor Emeterio Tarin na magpautob nin curfew sa Viga lalo na unsolved pa yong biktima nin riding in tandem sa Brgy. Rojas. Lalo na ta gagrabe na ang nagpopositibo sa covid-19 virus sa among bawa. Lalo na ta an Viga (17) panduwa na sa pinaka-golpeng nagpositibo sa Islang Padangat.
Taphaw man ni Elmer na alerdyik sa alcohol; "Kaya tama man na ipagbawal ang pag-inom nin nakahingaw na likido sa laog nin 2 semana o maski sadong buran pa", malisyoso y sadistang paghagikhik nin matilingon kan nasabing alerdyik sa alcohol. He! He! He!
Sabi man nin sadong taga Dariao, Caramoran, labot ta man ki Yorme Posoyski ta iso man yan makapag-boot sa Virac. Basta kaming mga taga-Caramoran gasunod man kami sa mga pagboot ni Mayora Aguilar.
Alagad kan hapoton kan sakong fiel na bubuwit si Erwin na taga Lictin, simbag sainya: "Kaya sa San Andres kung haen an samuyang Mayor matinabang sa kasaradayan, dai kumbinsido sa mga korpyong an, kaya gatubod y masunod man kami sainya".
"Anong bukong epektibo?"paaburidong simbag ni Gorio Velascong mahilig mag-umok sa mga "Daisy..,as in Disesais, Disesite etc" he.. he.. he.. "Sungayan na. Dahil sa paggrabe nin nagpositibo sa birus, nagpaluwas nin Executive Order si Mayor Etal Robles niing curfew minasugna nin alas 9:00 nin gabi hanggang alas 4:00 nin aga. Pati na liquor ban sa among banwa pig-extend."
Ang pinagmamarakulyo ni Gorio na sinigundahan man ni Arnulfong musingon, ta ata centennial selebrasyon kutana nin Payonhon bilang banwa na hare sa mother municipality nin Viga. Just imagine ang interaction and/or socialization namong mga taga-Panganiban kung mai pandemyang too. Heh! Sungayan na!.
Ata limitado na ang paghapihapi dahil sa social distancing grabeng pasakit man kung pati pag-inom nin paogik/gin o serbeza negra ipagbawal."
"Objection your honor" simbag man sako ni Telesforong na kung hingaw/bortok na, mahilig mangumusta, daog pa an kandidato para gobernador o congressman.
Hirit man sa English ni Nestor, na may pagka-Atitiway, boyong o normal man, lalo na kung kung bortok na: "In times like this we need wine as we dine with fewer friends due to this pandemic". Habang ga-spokening dollar si Inglesiro-na-Aitiway pa, inay, grabe ang habhab nin sumsuman na surahan. Gakabotot pakadyag ang sihong he he he.
Kaya kung ang host sa okasyon limitado ang pulutan gagamohon asin madaling maboyong o masibot ang kagharong. Yan mga ka-Peryodiko ang nura o kaganapan sa Islang Kayganda.
*********
May lead na kaya o may person of interests na kayang naidentify ang Bato MPS na pinamumunuan ni COP Emerson Icawat? Sana masakote na ang salarin na ayon sa huringhuding ay gumamamit ng ice pick. Sana madakop na iyan tibaad makatupas na sa Islang Kayganda.
Sana dai makatulog dahil sa karumaldumal na ginibo niya sa sarong babayeng pensionado sa nasabing bayan.