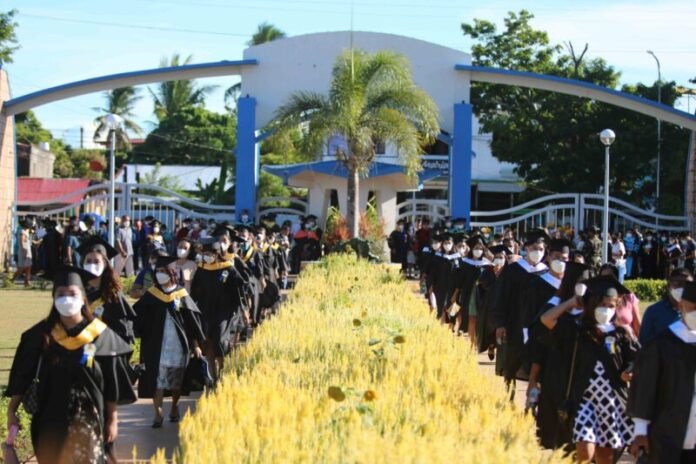 Call it luck, but this year's batch of graduates must have been so with their first face-to-face attendance with their parents during graduation rites after a couple of years back depriving prior batches due to the Covid-19 scare.

Led by SUC President-III of the Catanduanes State University (CatSU), Dr. Patrick Alain T. Azanza, who was installed June 24, 2021, this year's historic event after the heights of the pandemic is the 51st commencement exercises held in two batches on June 16 and 17, 2022, 2:00 pm at the University's front-grounds in the Main Campus at Virac, Catanduanes. The theme for the AY 2021-2022 graduation rites was, "Resilient Graduates: Striving and Excelling as Shapers of a Post-Pandemic Future."

The holding of the face-to-face ceremonies was guided by the University's internal guidelines, and that of the Commission on Higher Education (CHED) and DOH Joint Memorandum Circular No. 2021-004 prescribing rules given the new normal.
Ms Marilyn Tejada, University Registrar said that in response to that, the rites only allowed one parent or guardian for every graduating student, while vaccination cards were checked upon entry at the school premises either for those fully vaccinated or those unvaccinated attendees who were required to present their negative anti-gen test done done two days before the rites. The University in its Medical Services has its own anti-gen test kit ready for the purpose.

The first batch, June 16, 2022 was composed of graduates from the Colleges of Arts and Sciences, Business and Accountancy, Education, and Health and Sciences; while the second batch, June 17, 2022 were the Colleges of Agriculture and Fisheries, Engineering, Information and Communications Technology, Industrial Technology and the Graduate School.
Baccalaureate masses were also held in two batches, with Bishop Manolo A. de los Santos, both presiding said batches of Eucharistic celebration in the Immaculate Conception Cathedral in Virac on June 15 and 17, 2022.

With the newly installed University President during the face-to-face rites, aside from the faculty and the Deans were key University officials led by Dr. Lily P. Custodio, Vice-President for Academic Affairs; Dr. Maria Edna R. Inigo, Vice-President for Admin. and Financial Affairs; Dr. Ramon Felipe Sarmiento, Vice-President for Research, Extension and Production Affairs; Dr. Arthur I. Tabirara, AVP-AFA; Dr. Bernardino Abundo, AVP- Academic Affairs; and Dr. Gemma G. Acedo, AVP –REPA. Likewise present were Board of Regents (BOR) Members, Hon. Atty. Santiago T. Gabionza, Jr., Hon. Dr. Aida A. Dianela, (Private Sector), Ms Eulalia Talaran representing Hon. Atty. Ramil Joselito Tamayo (Alumni), Hon. Dr. Rosanna S. Abundo (Faculty Union), Hon. Renz Mickenly Tanael (Student), and Hon. Luzviminda T. Oropesa (Private Sector).
Meanwhile, commencement speakers during the two-day rites were: Atty. Santiago T. Gabionza, Jr. a Board of Regents (BOR) Member representing Sen. Joel T. Villanueva, who spoke on June 16, 2022; and Hon. Albert P. De La Cruz, Sr., Commissioner of the Climate Change Commission, who spoke on June 17, 2022.

This AY 2021-2022 graduation rites had a total of 2,070 graduates in the Main Campus in Virac, with 972 of them coming from those graduated from Cluster -A on first day, and 1,098 from those in Cluster -B during the second day of the graduation rites. During the ceremonies, Pres. Patrick Alain Azanza emphasized that this year's graduates are considered champions… and survivors because " it is but a culmination of all your sacrifices for several years, and also your triumph against Covid-19 pandemic," he said.
The President enjoined a moment of silence from the audience in his speech in memory of those who were gone during the ravages of the pandemic for the past years of its height. "Life is not a race…each one of us is having his (or her) own journey, and it is by remembering the values entrusted upon you by the University that we all hope (and your parents) that you will succeed," Dr. Azanza reminded the graduates. (ESV/CATSU)