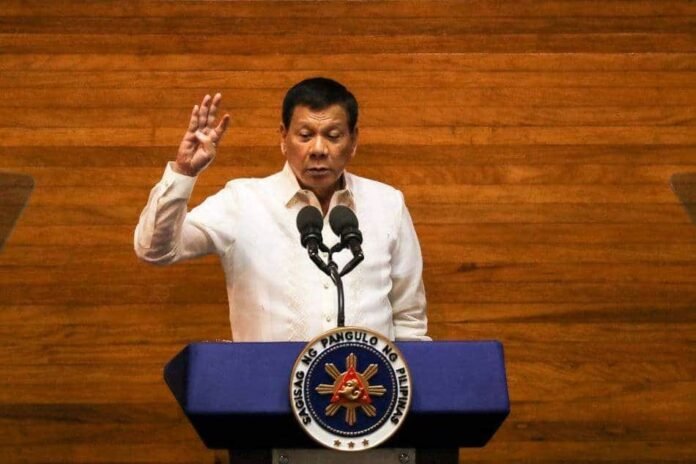 President Rodrigo Roa Duterte delivered his fifth State of the Nation Address (SONA) at the Batasang Pambansa in Quezon City last July 27,2020.
In his speech, which lasted for one hour and 45 minutes, Duterte urged Filipinos no to lose hope as he expressed optimism that the country would be able to overcome COVId-19, which he declared would soon be laid to rest.
The 75-year ol Chief Executive admitted that Filipinos are living in a "troubled time" as the COVId-19 contagion which has infected more than 82,000 people in the country, suddenly snuffed out their dream of prosperity.
Attended by selected congressmen, senators, and other lawmakers, agency officials and local government executives via teleconferencing, in stringent observance of social distancing protocols, his penultimate Sona so to speak in remaining two years of stewardship in Malacanang.
Duterte appealed to lawmakers for the passage of 21 priority measures which include Bayanihan Act 2, Corporate Recovery and Tax Incentives for Enterprises (CREATE), Evacuation center bill, Creation of Department of Overseas Filipino Workers, Creation of Department of Disaster Resiliency and Creation of of National Disease Management Authority and Rural Agricultural and Fisheries Development Financing Systems Act to name some.
There was no mention of the recent enactment of the Anti-Terror Law and the renewed initiatives among local officials to introduce amendments to the Constitution—two developments that have sparked controversy and for which he has drawn flak.
Admitting that the government has to improve on its response against COVOD-19, as well as the "not perfect" implementation of the P205-billion social amelioration program, he nevertheless claimed that the Philippines is in a better position to win its battle against the contagion.
Be that as it may, let's hope and pray that all sectors would work together to ensure that the government's strong fiscal position, our economic and fiscal prudence and robust banking system would not be wasted for its economic recovery.