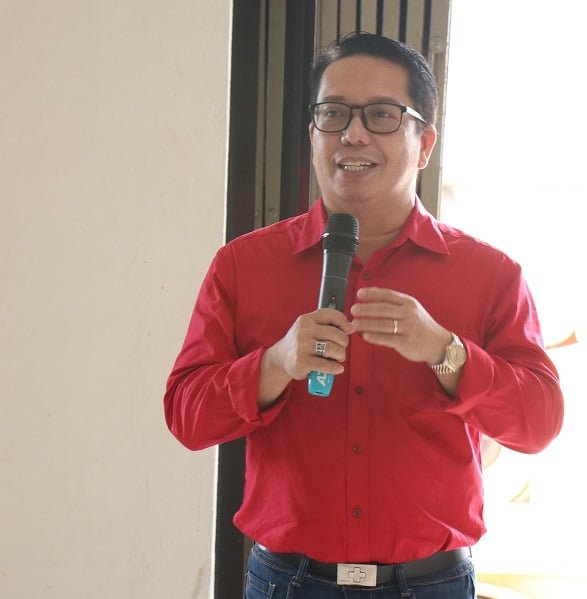 Sarong visionary ang bagong pamayo kan Catanduanes state University (CatSU), mayaman sa mga ideya asin igwa ning burning desire tanganing imediatementeng marealisar ang mga pigaplano.
Sa madaling sabi, action agad attitude because time is the essence. Sa laog ning anom na bulan pa sanang pagtukaw, gare pirang taon ng nagkaigwa ning pruweba sa saiyang mga pangaturugan.
Ini ang pigura this time ni President Patrick Alain Azanza, sarong propyong Viracnon asin aki kan opisyal na naging kontrobersyal na Presidente sa kaparehong institusyon haloy ng panahon ang uminagui.
Bako sana sa laog kan CAtSU ang focus kan saiyang administrasyon, kundi ang mga ideyang igwa ning domino effect sa probinsya sa paagui kan koordinasyon sa mga ahensya de govierno maging pribado.
Truly, dai nasala sa pagpili ang mga opisyal kan board na iyo ang nagtau ning dakulang opurtunidad tanganing maiheras ni Dr. Azanza ang saiyang eksperiensya asin kaaraman.
Sa satuyang intrevista sa Radyo Peryodiko, pinagsabi kan presidente na harus abuton sa sobra 200 na mga positions ang napanuan durante kan saiyang pagtukaw asin nagpapadagos ang promotion kan mga empleyado makalihis na natengga sa haloy na panahon sa dai maaraman na rason.
Ang corruption free campaign, apreciado soboot kan mga kontraktor na sinda mismo ang buhay na patotoo na igwa ning naghihirong administrasyon kabaliktadan sa mga enot na nagkarapot na usad pagong ang pagbayad kan mga obligasyon asin segun sa president, kaipu pa soboot nin pahalnas antes na mag-usap ang bayad.
Sa ngonian, sinda mismo soboot ang nag-aapod sa mga contractors kung available na ang pambayad sa natapos na proyekto. Bawal soboot ang lagayan o inaapod na under the table sa saiyang administrasyon. Kung gusto soboot magdonar kan mga contractor, pwede sinda magtau ning buluntaryong pagtabang particular sa mga estudyante na nangangaipo ning tablet dahil sa modular instruction.
*********
Saro sa prayoridad ngonian kan CatSU iyo ang Agro-Industrial Economic Zones aprubado na kan Philippine Economic Zone Authority (PEZA).
Dakul ning oportunidad ang naghahalat sa probinsya ingkaso marealisar ini. Investors, employment generations asin economic advantage ingkaso maging produktibo ang plano.
Pangarap kan opisyal na makatabang ang CatSU bilang demo farm tourism tanganing dai na magpara-angkat pa ang probinsya ning mga gulayon asin iba pang mga produkto.
Ang mga nakalinyadong proyekto katakod kan ecozone, posibleng gatreway soboot sa cityhood kan Virac sa ngapit na panahon. Ang sarong deklaradong economic zone igwa ning advantage sa lado kan mga investors nin huli ta naka-angkla digdi ang tax incentives.
PEZA, specifically provides assistance to foreign entities in facilitating business operations of investors within selected areas in the country, which are called PEZA Special Economic Zones. Once accredited na ang sarong business with PEZA certificates entitled sinda sa inaapod na fiscal and non-fiscal incentives.
Basado sa saindang mandato, ang Philippine Economic Zone Authority is a government agency in the Philippines attached to the Department of Trade and Industry created to help promote investments in the export-oriented manufacturing companies.
Bakong harayong mangyari ang planong cityhood kan Virac kung magiging produktibo ang Ecozone nin huli ta igwa ning economic impact ang pagdakul ning mga negosyo sa probinsya sa pagpursige man kan LGU.
Sa concerted effort, dakul ning mahahaman, in due time. Sa ipinapaheling na didikasyon kan pamayo kan CatSU, dakul ning na-iingganyo na maging parte kan pagbabago asin development, sierto matao ning produktibong gibo sa lado kan mga empleyado asin sa komunidad.
Kudos sa bagong energetic President na si Dr. Pat Azanza.
************
Good news sa mga Viracnon. Segun sa Viwad, mapoon na ang pagtrabaho kan Infiltration system sa mga masunod na aldaw. Ang bagong proyekto iyo ang kasimbagan sa haloy ng problema kan sinabi ng ahensya sa kadabes na igwa ning kuru-kuso ang uran, depektibo ang saindang suplay.
Kaining nagtalikod na Bulan, harus tolong aldaw naging mapulot ang buhok kan mga consumers dahil naging wisik-wisik sana ang siste dahil sa kawaran ning tubig.
Nasabutan ta ang kulog boot kan mga taga viwad, particular kung natutuyaw sa kawaran ning tubig, Arog kan FICELCO, matic ang reklamo ta ini ang satong basic necessities sa isla.
Segun ki GM Gabby Tejerero, sana, luway-luwayan man soboot ang rara kan dila kan mga komentarista sa facebook ta, tawo man sindang marunong masaktan.
Segun ki GM Gabby, naagoy na sana sinda sa siring na mga komento. Sarong challenge soboot ini sainda tanganing mas pang maparikas ang realisasyon kan mga proyekto tanganing matukdukan ang mga problema sa kakulangan ning tubig.
Kudos ki GM Gabby Tejerero and company.
**********
Nag-anunciar na ang FICELCO na mapadara sinda ning mga linemen sa Bohol komo kasimbagan sa request kan Department of Energy tanganing makipagtabangan sa restoration measures kan mga naging biktima kan makusog na bagyo.
Katorse soboot ang ipapadarang linemen sa Bohol asin mga pagtaraed na lugar na grabeng tinamaan kan bagyo.
Arog man kaso kita dapla nin huli ki Reming, Nina asin Rolly, nagtumar aksyon man ang mga kooperatiba sa bilog na kinaban kung kaya, binabalusan man siya.