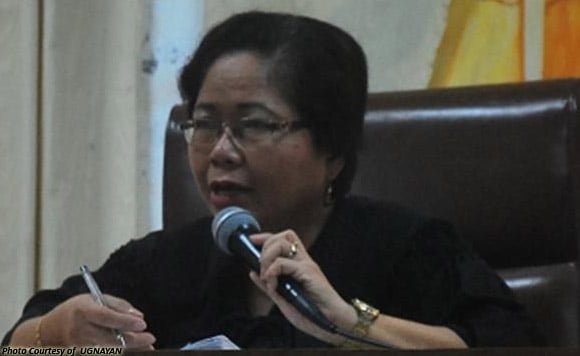 Last February 7, 2022, I attended the birthday celebration and retirement of Branch 43, RTC Judge Lelu Contreras at E-crown Hotel, as representative of SM Ferdz Brizo who was on travel in mainland at that time.
Gracing the special event includes Most Rev. Bishop Manolo delos Santos and St. John the Baptist congregation sisters, San Andres Mayor and President of League of Mayor's, Catanduanes Chapter, Peter Bos Te Cua, CSHCI Vocational School Administrator Elpidio R. Tuboro, ranking members of the bench and staff, Catanduanes Tribune editor in chief and CIMC President Fernan A. Gianan and other invited guests . After the doxology of St. Francis of Assisi, playing the national anthem, introductory remarks, PS Video screening, there followed the " Grand Entrance" of RTC Judge Lelu Contreras in resplendent, shining pink color.
The welcome address delivered by his UP alumnus son Prof. Rudyard Contreras was followed by the messages of salutations led by Mayor Cua, Bishop Manolo delos Santos, lawyers under Branch 43.
A message of the celebrant followed capped by her favorite " A Whole New World", and a special dance with her son who was too proud of their justice, single mother. Due to space and time constraints, additional features of the event attended by more or less 120 guests will be presented later.
***
PSMS John de la Cruz Teston was laid to rest, with military tap and 21-gun salute as lasting respect and tribute to a fallen police officer killed in action (KIA).
He belongs to a family of 5 policemen led by his retired COP and now Councilor of SB, Bato–Councilor Renato Atoy Teston who was seatmate during the pre-covid 19 pandemic ISUMI health and wellness sessions.
He told me that he was once assigned my hometown– Pandan. Our family's condolences, prayers and deepest sympathy to the bereaved family of the late PSMS John de la Cruz Teston. To paraphrase WWII Gen. Douglas Macarthur, "Soldiers (policemen) never die, they just fade away."
***
What happened now to the " position letter/ paper" written by Viwad GM Gabriel Tejerero and and collegially/ collectively signed by the other 5 beleaguered/ problematic water districts?
As of writing, we have yet to know the response of the Sangguniang Panlalawigan (SP) led by PBM Raffy Zuniega, chairman, Committee on Ways and Means.
Earlier, their requests for penalty condonation and two-year moratorium had been disapproved by the SP, paving for the provincial treasurer, headed by Chief Marilou Vargas to send them an ultimatum of 5 days to settle their tax liabilities or face sanctions, garnishment of assets and possible court litigations.
Pundits say the pressing issue here is not the tax liabilities and penalties condonation. The issue boils down to time of collection by these liabilities due to the COVID-19 Omicron variant pandemic. Hindi na ba yan dapat macollect pakatapos ang pandemya maging endemya?
Tutal, ang provincial government ay makarisibi ng mannah through the Mandanas ruling. In fairness, the SP through the Ways and Means Committee is just doing their mandated function. I think it would be advisable and favorable to come out with a win-win solution.
Let's hope and pray the honorable gentlemen and lady from the august body will decide in favor not only of the problematic 6 water districts. (By: Buddy Isorena)