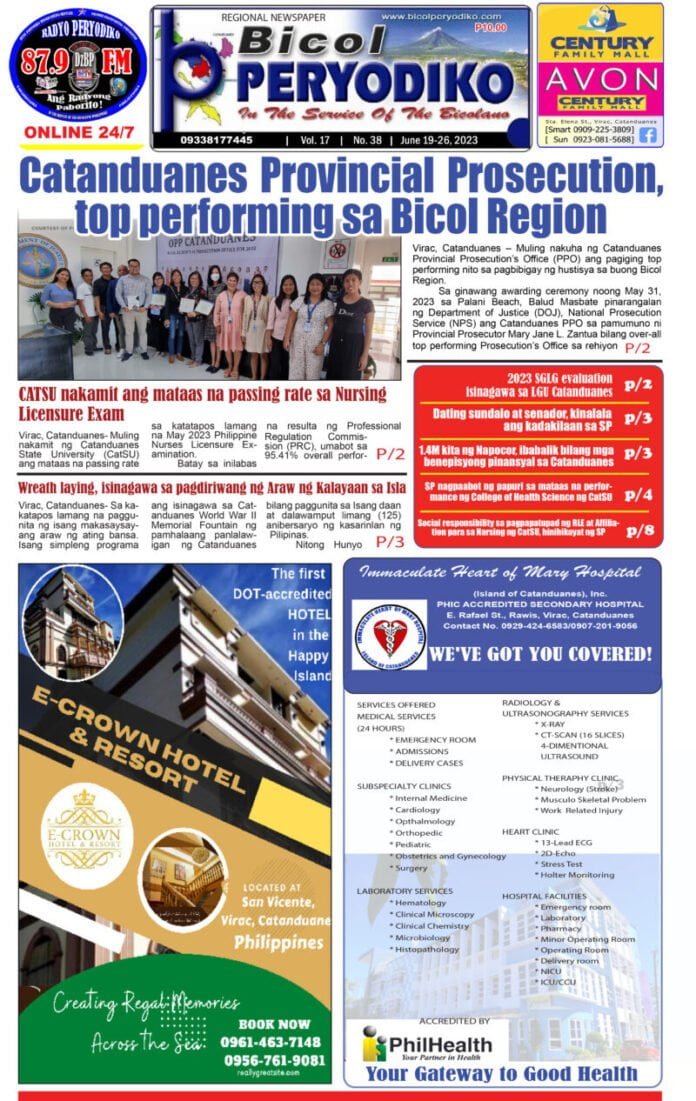 Virac, Catanduanes – The Catanduanes Provincial Prosecution's Office (PPO) has once again been recognized as the top performing office in delivering justice in the entire Bicol Region.
During the awarding ceremony held on May 31, 2023, at Palani Beach, Balud Masbate, the Department of Justice (DOJ) and the National Prosecution Service (NPS) honored the Catanduanes PPO, led by Provincial Prosecutor Mary Jane L. Zantua, as the overall top performing Prosecution's Office in the region for the calendar year 2022.
Based on records, the Catanduanes PPO achieved a General Weighted score of 5 or 99.88%. This number refers to the investigation disposition rate, case aging, and prosecution success rate.
In addition, the Catanduanes PPO also achieved a 100% disposition rate for cases brought to their office in the same year.
Meanwhile, in recognition of her invaluable dedication to her work for 40 years, Administrative Officer Susan A. Sta Rosa was awarded a Certificate of Commendation.
Due to inclement weather conditions, Atty. Zantua's group was unable to attend the awarding ceremony, but the accolade was sent to their office on June 16, 2023.
In conjunction with this, Prosecutor Zantua expressed her profound gratitude and praise for her colleagues' dedication in expediting the cases filed in their office. She emphasized that this achievement is not just hers alone, but a result of the collective efforts of their entire office.
The said office has previously received a plaque of recognition in past years, which has inspired them to maintain their exceptional accomplishments.
Witnessing the awarding ceremony were Radyo Pilipinas Catanduanes Station Manager Arlene Bagadiong and Philippine Information Agency Catanduanes Infocen Manager Edna Bagadiong, who were also presented with Certificates and Plaques of Commendation. (BP newsteam)