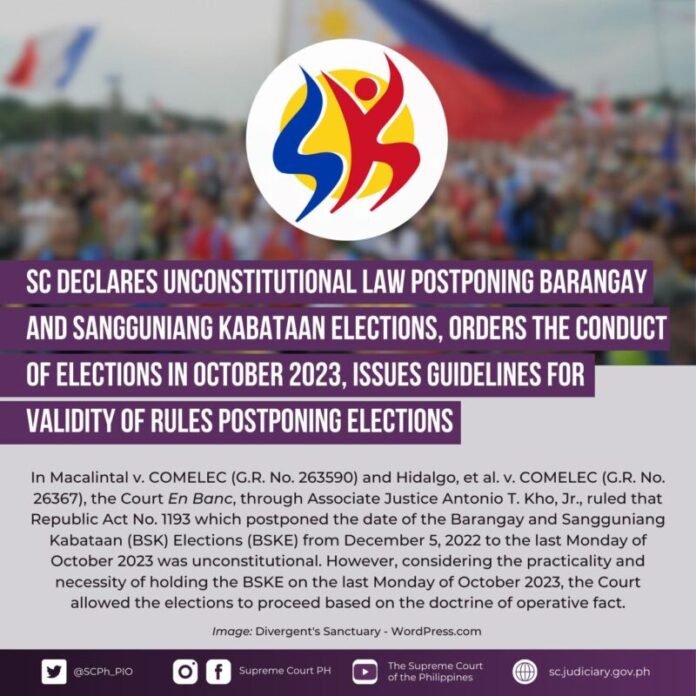 The Supreme Court has declared unconstitutional the law which postponed the holding of the Barangay and Sangguniang Kabataan (BSK) Elections (BSKE), from its initial schedule of December 5, 2022 to the last Monday of October 2023, but recognizes the legal practicality and necessity of proceeding with the conduct of the BSKE on the last Monday of October 2023, pursuant to the operative fact doctrine.
In a Decision penned by Associate Justice Antonio T. Kho, Jr., the Court En Banc granted the consolidated petitions of Atty. Romulo B. Macalintal (Atty. Macalintal) and of Attys. Alberto N. Hidalgo, Aluino O. Ala, Agerico A. Avila, Ted Cassey B. Castello, Joyce Ivy C. Macasa, and Frances May C. Realino (Atty. Hidalgo, et al.) assailing the constitutionality of Republic Act No. 11935 (RA 11935), or "An Act Postponing the December 2022 Barangay and Sangguniang Kabataan Elections, Amending for the Purpose Republic Act No. 9164, as amended, Appropriating Funds therefor, and for Other Purposes."
The Court also found it imperative to set forth guidelines and principles for the bench, the bar, and the public as regards any government action that seeks to postpone any elections.
Read more at https://sc.judiciary.gov.ph/sc-declares-unconstitutional…/.
#TechnologyDrivenJudiciary #SupremeCourtPH (via Supreme court)