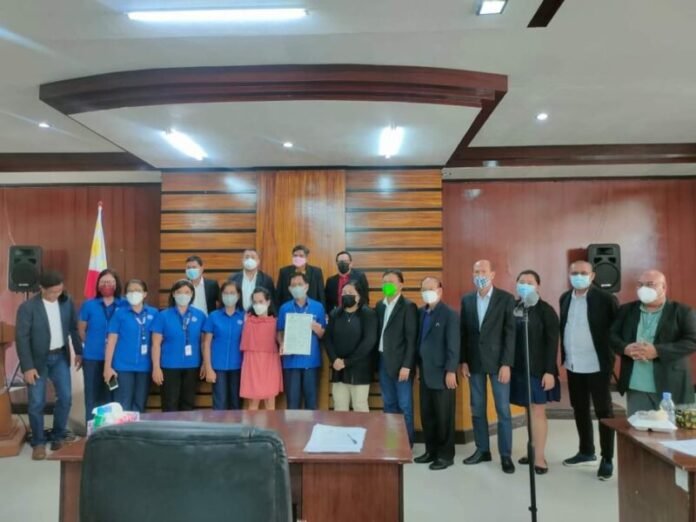 This issue is the last one for the period—October 2020-October 2021— of our highly cherished crusading community newspaper—BICOL PERYODIKO). Vol. 16, No. 001 would commence next issue.
As such, we're brimming with pride as we await, with baited breath, our 15th Foundation Anniversary this forthcoming October 24, 2021, which coincides with the 79th Foundation Anniversary of Catanduanes thanks to the historic legislative measure of Cong. Francisco Perfecto. I'll feature the late solon's legacy on forthcoming issues.
Not only that. Our anniversary celebration simultaneously coincides with Barangay Gogon's Fiesta Celebration in honor of Patron Saint Raphael and that of Barangay Cavinitan where we're permanently based.
Super howler Rolly and the dangerous, unseen and vicious coronavirus, which led to the closure of several community newspapers nationwide, humbled us to the maximum. It equipped, hardened, and tested our resolved to plod on amid this hard and trying times.
Our perseverance, tenacity, and the will to survive enabled us to go on along with our sister outfit, Radyo Peryodiko (96.7 Mhz), which relatively enjoy brisk advertisers' support (read: trust and confidence to deliver the goods so to speak.)
* * * *
Without further ado, allow me, at this point in time, to introduce to you our featured"MAN OF THE HOUR." He's no other than Vocational School Administrator (VSA) ELPIDIO "PIDS" R. TUBORO, top honcho of TESDA-mandated CABUGAO SCHOOL OF HANDICRAFT AND COTTAGE INDUSTRIES (CSHCI).
Last September 13, Monday, VSA Tuboro was conferred an Award of Recognition by Vice Gov. Shirley A. Abundo and the Sangguniang Panlalawigan in a "Resolution" sponsored by East District PBMs Edwin T. Tanael and Robert Fernandez.
The articulate, energetic and facilitative administrator was given such award in recognition of his substantial contribution on the promotion of skills development through technical vocational (tech-voc) courses trainings province-wide.
During his stint as CSHCI administrator, Tuboro established linkages with LGU chief executives and informed them of the Technical and Vocational Education Training (TVET) program offered by TESDA. Based on records, from 2014-2018 CSHCI produced 9, 145 graduates out of 10,874 enrollees amid the coronavirus pandemic.
Last September 21, he was instrumental in the blessing & inauguration of CSHCI Extension Campuses particularly that of Pandan-Caramoran Training Center (Pan-Car) in Barangay Pandan del Sur and Panganiban-Viga-Bagamanoc Training Center (Paviba)in Barangay San Pedro, Viga, Catanduanes.
The two events were graced by Sec. Isidro S. Lapena,( who delivered his inaugural address and took cognizance of the utmost support by elective leaders and the TESDA men and women behind this two events, virtuallly).
Ribbon-cutting in PAN-CAR TRAINING CENTERraining Center (PCTC) were led by TESDA RD Elmer Talavera; TGP Partylist Jose J. Teves Jr., PD Arcangel Rodriguez; PBMs Lorenzo T. Templonuevo and Edwin T. Tanael; Pandan Mayor Honesto C. Tabligan II; Vice Mayor Eric, who represented and read the message of Gov. Joseph C. Cua; Councilor Tacker Rodriguez: several Punong Barangays; and DPWH D.E. Augustus Gil Balmadrid, represented by DPWH Engr. Nestor Rojas.
In the PAVIBA TRAINING CENTER, on the one hand,TGP Partylist Rep. Bong Teves were joined by PBMS Robert Fernandez, Edwin T. Tanael & Lorenzo T. Templonuevo Jr. Councilor Juban Balidoy represented and read the message of Gov. Cua; Mayor Emeterio M. Tarin was represented by Councilor Elizabeth T. Pereyra; and Punong Barangays.
Other invited guests who were invited to grace the occasion but did not attend due to respective commitments earlier were Cong. Hector S. Sanchez; CatSU President, Dr. Patrick T. Azanza, who was on official travel in Metro Manila.
The third leg of the TESDA event was the on-site visit of the entourage led by RD Elmer Tavera to the 1,463 sq. meters where TESDA TRAINING CENTER soon to be headed by Ms. Joevy M. Ariola, Administrator-PTC Baras .
The father and son tandem of Rep. Bong Teves and Baras Mayor Jose Paolo Teves served as the hosts of the luncheon dinner tendered in honor of the guests led by REGION V TESDA RD Talavera at the Octagon Hall. RD Talavera was billeted in the world-class European designed E-Crown Hotel located in Barangay San Vicente, Virac, Catanduanes. Due to space and time constraints some more related details will be featured next issue.