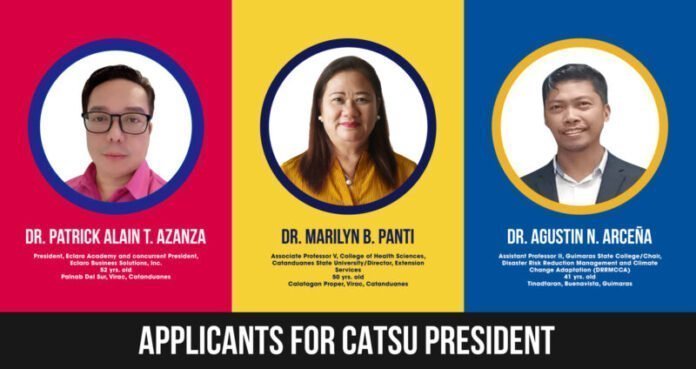 The question I posed above is very challenging, exciting, imperative, and timely. Right? However, before I tackle it curiously and seriously, allow me to have this sort of trivia-cum-post prandial reflections.
The original acronym of the Catanduanes State University was changed, two or three years ago, from CSU to CatSU as per CHED decision. Probably, it was recommended to distinguish her from the Cagayan State University whose acronym is CSU also. Perhaps, it was a matter of chronology or seniority.
University-status- wise, Cagayan State University is older than Catanduanes State University which will celebrate its 9th Year as a university this coming October 2021. However, within a span of less than one decade, CatSU like her CSC status years four decades ago, had chalked up achievements and recognitions in board examinations in accountancy, engineering, nursing and midwifery, nutrition & dietetics, Licensure Examination for Agriculturists (LEA) and Licensure Examination for Teachers (LET).
CatSU was a CHED-recognized center of excellence in education and other fields of discipline. It also passed and maintained the ISO international level standard. Its infrastructure development and state-of-the-art facilities have been unprecedented under then SUC President III Dr. Minerva I. Morales and is being continued under OIC President Dr. Freddie T. Bernal, concurrent CHED-V Regional Director.
This premier institution of higher learning in the province will celebrate its 50th Foundation Anniversary this coming June 19, 2021. Historically, by virtue of Republic Act No. 6431 authored by Cong. Jose M. Alberto in June 19, 1971, the Catanduanes State Colleges came into being with the conversion of Virac National Agriculture and Trades School (VNATS) more than a year before the declaration of Martial Law by then President Ferdinand E. Marcos on September 21, 1972.
A marker at the administration building's lobby was officially mounted in recognition of Cong. Alberto's legacy aside from the Eastern Bicol Medical Center (EBMC) to name some.
Then Cong. Cesar V. Sarmiento equalized said legacy when he converted the CSC into a University, if I'm not mistaken, during his initial three-year term in October 2012.
* * * *
Unfortunately, CatSU will be celebrating its golden anniversary amid this covid-19 pandemic whose devastations are transcendental–economic, psychological, mental, social, political etc.
The premier academic institution is at a cross-road so to speak at this point in time. Extra-ordinary measures and long-term decisions has to be made under the leadership of OIC President Dr. Freddie T. Bernal whose term will end upon the election of a newly-minted president—officially the second president of the University.
The responsibility of charting and stirring the challenging multiple roles of the Catanduanes State University in instruction, research, extension and production would be passed on to the incoming president to be chosen by the 11-member of the Board of Regents (BORs) among these three aspirants, in alphabetical order, namely: 1) Dr. Agustin N. Acernas, 41, married; 2) Dr. Patrick Alain T. Azanza, 52, married; and 3) Dr. Marilyn B. Panti, 51, married.
Dr. Arcenas, former student leader and NGO organizer, is an outsider from Guimaras, but is brimming with enthusiasm and comprehensive vision and mission to become president, if given the trust and confidence;
Dr. Azanza, U.P. Distinguished Alumnus, obtained his master's and doctorate degrees from UP, Diliman; former UP-Diliman Director and former UP student leader ; he is not an outsider having took his elementary and secondary studies at CSC; whose perspective is both local, national and international.
Dr. Panti is also an insider having obtained her elementary, secondary and Ed. D. (Meritissimus) at CatSU; Incumbent Director of Extension Services for more than 10 years; alumnae and faculty member of the College of Health Sciences.
One lady and two gentlemen fellow alumni. All are very articulate, qualified, knowledgeable, and young. After the Search Committee for the Presidency had submitted the documents/findings to the 11-member BORs, its up to them to decide individually, if not collectively, the CHOSEN ONE–the one who will chart or stir the continuity/destiny of the University in this hard and trying times.
Mirror! Mirror! Who'll be the lucky one? To the three aspirants for that much-coveted lofty position: Good Luck! and God Bless!
Meantime, while waiting for the BORs challenging, mind-boggling crucial role, let's all ALUMNI, shout out for the ACADEMIC WORLD to HEAR: We are proud of You– Our Dear Alma Mater. WE LOVE YOU CATSU!