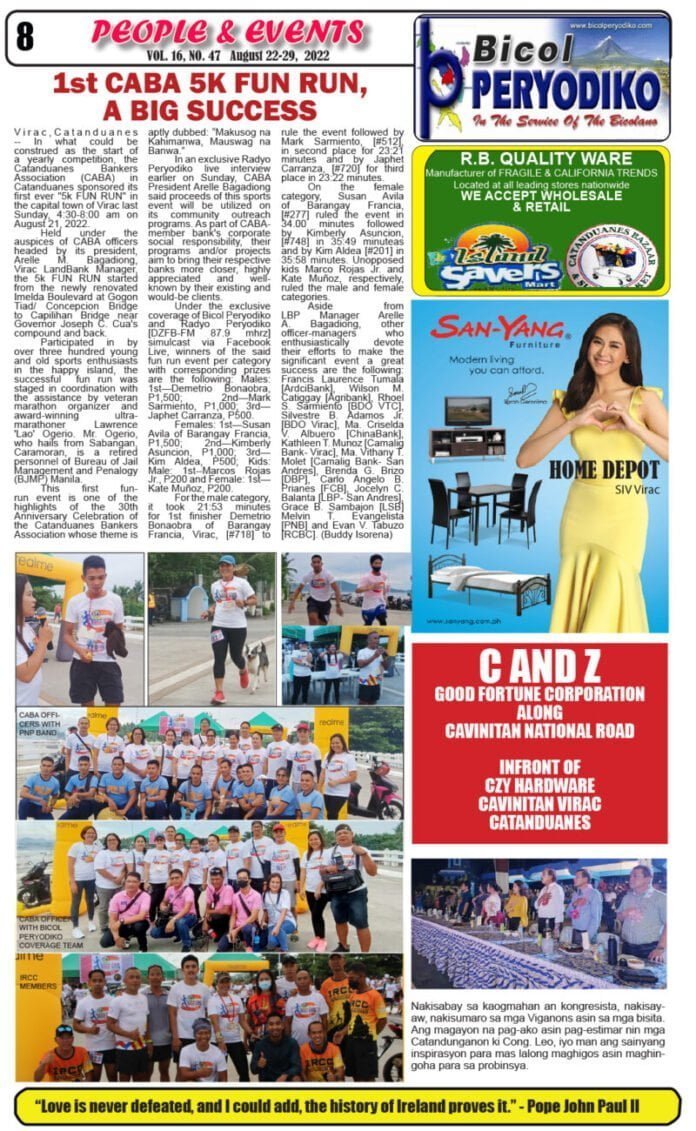 Virac, Catanduanes — In what could be construed as the start of a yearly competition, the Catanduanes Bankers Association (CABA) in Catanduanes sponsored its first ever "5k FUN RUN" in the capital town of Virac last Sunday, 4:30-8:00 am on August 21, 2022.

Held under the auspices of CABA officers headed by its president, Arelle M. Bagadiong, Virac LandBank Manager, the 5k FUN RUN started from the newly renovated Imelda Boulevard at Gogon Tiad/ Concepcion Bridge to Capilihan Bridge near Governor Joseph C. Cua's compound and back.

Participated in by over three hundred young and old sports enthusiasts in the happy island, the successful  fun run was staged in coordination with the assistance by veteran marathon organizer and award-winning ultra-marathoner Lawrence 'Lao' Ogerio. Mr. Ogerio, who hails from Sabangan, Caramoran, is a retired personnel of Bureau of Jail Management and Penalogy (BJMP) Manila.

This first fun-run event is one of the highlights of the 30th Anniversary Celebration of the Catanduanes Bankers Association whose theme is aptly dubbed: "Makusog na Kahimanwa, Mauswag na Banwa."

In an exclusive Radyo Peryodiko live interview earlier on Sunday, CABA President Arelle Bagadiong said proceeds of this sports event will be utilized on its community outreach programs. As part of CABA-member bank's corporate social responsibility, their programs and/or projects aim to bring their respective banks more closer, highly appreciated and well-known by their existing and would-be clients.

Under the exclusive coverage of Bicol Peryodiko and Radyo Peryodiko [DZFB-FM 87.9 mhrz] simulcast via Facebook Live, winners of the said fun run event per category with corresponding prizes are the following: Males: 1st—Demetrio Bonaobra, P1,500; 2nd—Mark Sarmiento, P1,000; 3rd—Japhet Carranza, P500.

Females: 1st—Susan Avila of Barangay Francia, P1,500; 2nd—Kimberly Asuncion, P1,000; 3rd—Kim Aldea, P500; Kids: Male: 1st–Marcos Rojas Jr., P200 and Female: 1st—Kate Muñoz, P200.

For the male category, it took 21:53 minutes for 1st finisher Demetrio Bonaobra of Barangay Francia, Virac, [#718] to rule the event followed by Mark Sarmiento, [#512], in second place for 23:21 minutes and by Japhet Carranza, [#720] for third place in 23:22 minutes.

On the female category, Susan Avila of Barangay Francia, [#277] ruled the event in 34.00 minutes followed by Kimberly Asuncion, [#748] in 35:49 minuteas and by Kim Aldea [#201] in 35:58 minutes. Unopposed kids Marco Rojas Jr. and Kate Muñoz, respectively, ruled the male and female categories.
Aside from LBP Manager Arelle A. Bagadiong, other officer-managers who enthusiastically devote their efforts to make the significant event a great success are the following: Francis Laurence Tumala [ArdciBank], Wilson M. Catiggay [Agribank], Rhoel S. Sarmiento [BDO VTC], Silvestre B. Adamos Jr. [BDO Virac], Ma. Criselda V. Albuero [ChinaBank], Kathleen T. Munoz [Camalig Bank- Virac], Ma. Vithany T. Molet [Camalig Bank- San Andres], Brenda G. Brizo [DBP], Carlo Angelo B. Prianes [FCB], Jocelyn C. Balanta [LBP- San Andres], Grace B. Sambajon [LSB] Melvin T. Evangelista [PNB] and Evan V. Tabuzo [RCBC]. (Buddy Isorena/FB/Bicol Peryodiko)