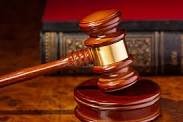 Due to the retirement of Judges, more than 100 civil and criminal cases are currently pending at the two branches of the Regional Trial Court in the Province of Catanduanes.
In the latest update, 47 cases are pending at RTC Branch 42, while 62 cases are pending at RTC Branch 43. Recalling recent events, RTC Executive Judge and RTC Branch 42 Presiding Judge Genie Gapas – Agbada have retired, and Judge Contreras also retired earlier last year.
Despite this, one of the court personnel clarified that only 57 cases are currently active out of the total from the two mentioned RTC branches. This is because the accused in the remaining cases have reportedly not been arrested yet and are still awaiting presentation in court.
Related to this, employees at the Hall of Justice expressed their hope that the possible judge that will be appointed to the said courts would not come from mainland Bicol. This is due to the possibility that the judge might not be able to regularly report to the office because of the distant travel, especially the sea voyage.
They are also concerned that aside from the delay in the administration of justice, RTC employees' leave applications might not be approved. (Pat Yutan)